You may be familiar with the following: "The steadfast love of the Lord never ceases; his mercies never come to an end; they are new every morning; great is your faithfulness. The Lord is my portion," says my soul, "therefore I will hope in Him." The inherent beauty of God's steadfast love and faithfulness is reflected on in many a worship service, prayer session or sermon. 
"The tongue of the nursing infant sticks to the roof of its mouth for thirst; the children beg for food, but no one gives to them." The imagery of Lamentations is not one of beauty. 
Mourning. 
A single day has come to represent pain, suffering, mourning and repentance for the Jewish people--Tisha B'Av, the ninth of Av. On this day, all that was holy was destroyed: Solomon's temple, a place to worship God? Destroyed. The second temple, built with great joy and weeping and place of worship for both the Jewish people and early Jewish Christians? Destroyed. "How the gold has grown dim, how the pure gold is changed! The holy stones lie scattered at the head of every street."
While the destruction of the Temples would be bad enough, Jeremiah goes on, "The precious sons of Zion, worth their weight in fine gold, how they are regarded as earthen pots, the work of a potter's hands!" In the month of Av all the suffering of the Jewish people can be remembered. Upwards of 500,000 killed by the Romans in 135 C.E. Tens of thousands of documented murders in the Crusades. Expulsion from England, France and Spain in the 13th, 14th and 15th centuries.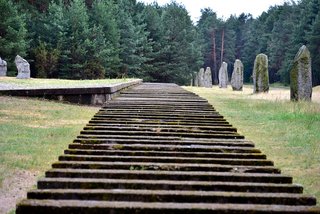 Jeremiah predicted it, ""So they became fugitives and wanderers; people said among the nations, "'They shall stay with us no longer.'" So, it's fine, right? But those who joined in the reckless cruelty of the Jewish people -- and those who turn away, are not free of condemnation. Therefore they are not free from the need for mourning and repentance.
On the 9th of Av the "Final Solution" was approved by Himmler. One year later, the first mass deportation of the Jewish community of Warsaw began. Destination? Treblinka.
The book of Lamentations is read by the Jewish people every year across the globe on Tisha B'Av. It is read on a day of fasting and mourning. It is read to remember pain and suffering. It is read to remember that God is faithful — He punishes those who turn away from the poor and needy, the fatherless and widow, both among His own and among the nations. And yes, He forgives those who are repentant. But that doesn't mean we forget the pain we cause or the pain others cause us.